MD Now Recommends Anti-Viral Treatment for Severe Flu Season in South Florida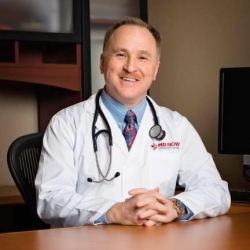 West Palm Beach, FL, February 04, 2018 – ( PR.com ) – The CDC has reported a sharp increase in influenza activity in the US in recent weeks, with South Florida hit particularly hard due to an influx of winter travelers. To curb complications from the virus, MD Now is offering prescriptions for antiviral medications as appropriate, at all 33 South Florida locations.
According to the CDC, antiviral medications can be an important adjunct to an annual influenza vaccination as. Randomized trials have shown that treatment with antivirals reduces illness and severe outcomes. These medications are particularly important for high-risk patients, and can be highly effective when administered early. Clinical benefits have also been noted, however, even when treatment is initiated later than the recommended 48 hours from onset.
"These neuraminidase inhibitors (NAI) are especially important for young children, pregnant and postpartum women, and anyone who age 65 who may have contracted the A (H3N2) virus, as well as in close contacts and family members who might be exposed to the flu, in order to prevent them from getting sick, or flu from spreading, "says Peter Lamelas, MD, CEO of MD Now Urgent Care." These medications should also be prescribed to those who are hospitalized, in nursing homes and chronic- care facilities, as well as to with with severe, complicated, or progressive illnesses. "
With more than 33 walk-in locations Palm Beach, Broward, and Miami-Dade counties, MD Now makes flu treatment more convenient. Walk-in clinic hours extend from 8 am to 8 pm, seven days a week. This allows those experiencing flu-like symptoms to get quicker diagnosis and treatment. Speed can be essential since antiviral medications tend to be most effective when administered within the first 48 hours.
"We hope people will take advantage of our convenient hours and walk-in service to prevent the spread of the A (H3N2) virus," states Dr. Lamelas. "If everyone does their part, we can keep this particularly infectious flu strain from spreading to those most susceptible to its complications. "
Estimates show that anywhere from 15 to 40 percent of the US population will develop illness from influenza, 114,000 will require hospitalization, and an estimated 36,000 will die each year. In a state where less than half the resident typically receive a flu vaccine, it's especially important that any take exhibitors symptoms take all necessary precautions
"Aside from frequent hand-washing, exercising proper coughing and sneezing etiquette, staying home when ill, and trying people who may be sick, the best medicine for the flu is an antiviral administering soon after symptoms develop," explains Dr. Lamelas. " At MD Now, we're doing our part to ensure that anyone who needs it, quickly received appropriate treatment. "
About MD Now Urgent Care Centers
MD Now Urgent Care Walk-In Medical Centers is the leading provider of fast and affordable urgent care to adults and children in Palm Beach, Broward, and Miami-Dade counties. Our state-of-the-art, walk-in medical centers are open seven days a week from 8 am to 8 pm to deliver an affordable and convenient alternative to long emergency room wait times and the limited hours of family physicians. No appointment is necessary and major insurance plans are accepted. range of urgent care services to treat a variety of illnesses and injuries, our multiple locations offer digital x-rays, EKG, ultrasounds, lab testing, physicals, immunizations, vaccines, physical therapy, occupational medicine, travel medicine, and selected primary care services Discover medical care that treats you to the care you need now at MD Now. Call: 888-MDNow-911, online: www.MDNow.com